We're registered with FPAL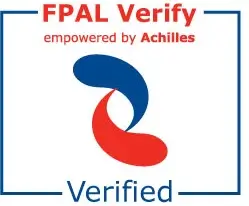 "FPAL is an industry initiative created by oil & gas representatives in 1996 in response to standardising supply chain information and achieving costs savings within procurement processes by 30%. FPAL was acquired by Achilles in 2004 and continues to be governed by an industry based Steering Group of oil & gas companies.
Achilles FPAL is a community used by major buying organisations within the Oil & Gas sector. It enables the buyer to use Achilles' proven supplier pre-qualification system to identify, pre-qualify and assess suppliers for tender opportunities and minimise risk within their supply chains. Established in 1996, FPAL is a service provided by Achilles and the community is managed by a Steering Group to drive industry best practice.
Achilles FPAL membership is an integral part of the industry wide initiative known as the Supply Chain Code of Practice (SCCoP) which is endorsed by the UK oil & gas supply chain to measure best practice during buyer procurement processes."
ESI Technology are now part of this initiative and boasts a history of projects for the oil, gas and subsea industry that are detailed on our FPAL profile.